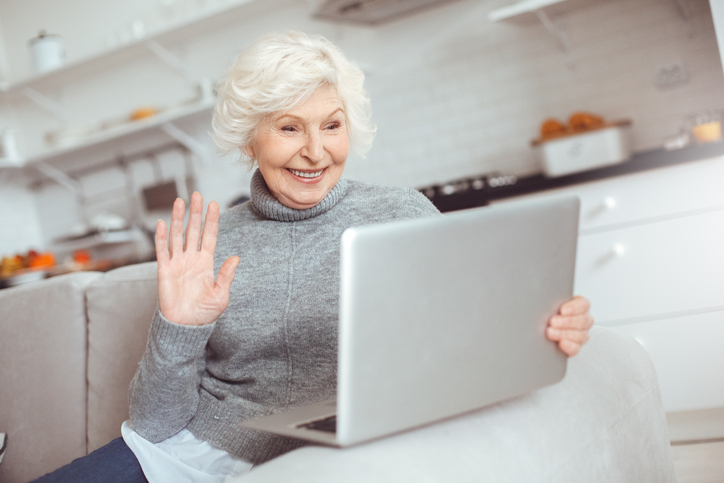 These are unprecedented times in which we're living, Parkwood Heights has been directed by the New York State Department of Health to stop all non-medical visitation until further notice. It's a strange situation to not be able to see your friends and family in person. Social distancing can take its toll, making us feel isolated and alone. It's not much comfort to know that many others are in the same position, but it may be helpful to remember that it's only temporary, and things will get back to normal before too long. In the meantime, here are some great ways to stay connected while you're obliged to be apart.
Talk to your loved ones on the phone. It's a simple, easy solution, but it's also a great way to keep in touch. Many people live far away from their loved ones already and rely on the phone for communication, but in a time like this, it may be a good idea to call more frequently. Be creative: read the little children in your life a bedtime story or sing them a nursery rhyme, tell a friend about a book you're reading, or play some music for each other over the phone.
Try out a video chat. For many of us, FaceTime, Zoom, and other apps that allow you to see people live while you're talking to them still seem like something futuristic and strange. You might be surprised, though, to find that they can be fun! Give it a shot, because there's nothing quite like seeing your loved one's faces, and letting them see yours.
If you find that you enjoy video conferencing, try out different types of virtual hangouts. You might have a virtual ladies' night or host a virtual cocktail hour with friends. You could also start a virtual book club, meeting once a week through a video platform to discuss a book you're all reading. You could even watch the sunset together virtually.
Talk to your friends through the window, or to your neighbors on the opposite porch or balcony. If there's glass or several feet of air between you, you won't be risking your health to have a conversation.
Take a walk and chat with people from across the street. If you're used to taking walks, you can still do that. Just make sure to stay a safe distance from any neighbors you encounter, and chat from opposite sides of the street! Sometimes just getting some fresh air can make you feel better, and seeing a friendly face, even from several feet away, can brighten your day. You might also consider talking to a friend on the phone while you walk, as though you're taking a walk together.
Correspond through snail mail. It may seem old fashioned, but there are many benefits to handwriting letters to friends and family members. In a letter, you have time to put your thoughts on paper in an orderly way, and then you and your loved one have that tangible correspondence to keep forever. Someday down the road, it might be very interesting to look back at what you were thinking during this unusual time.
Try out a recipe together, even when you're apart. Pick a recipe to share with some friends or family members, and agree on a time when you'll all cook and eat it. If you're tech-savvy, you can cook and eat together on a Zoom chat, but if not, you can talk about it after dinner on the phone, or message each other in a group thread.
No matter what's going on out there in the world, Parkwood Heights is a great place to live your best life. A lovely community in which to spend your retirement participating in interesting activities or just relaxing, Parkwood Heights is located just minutes from Victor, Fairport, Farmington, and Canandaigua. Our picturesque, 122-acre senior living campus affords many opportunities to enjoy your time with friends and family while enjoying our scenic setting. Call (315) 986-9100 to learn more about all that we have to offer, or check out our website and reach out if you have any questions.